This post is also available in:
日本語 (Japanese)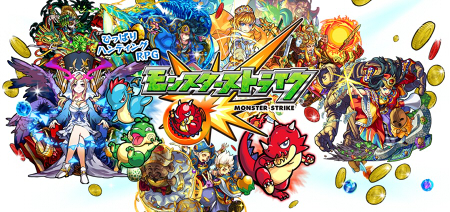 Monster Strike is one of the most popular smartphone games and, with large events being held regularly, you could say it is popular on a national scale.
The multiplayer mode is especially exciting, and being able to play with other players is probably the reason behind its explosive popularity.
With the game being so popoular, I believe many of you decided to give it a try just from simply seeing an ad for it or being invited by someone.
However, some of you may be having trouble trying to download Monster Strike.
So let's have a look at the various reasons why Monster Strike won't download and their solutions.
Reasons why you are unable to download Monster Strike
Poor network connection
This holds true not just for Monster Strike but for all communication devices too, but an unstable connection won't allow for data to be read properly.
Not only will this prevent you from downloading, but it may stop you from doing other operations too.
You should always be aware of your communication environment, especially underground or in the mountains where you can easily lose your signal.
Your smartphone is blocked
When you haven't paid your smartphone rental fees, you won't be able to use the smartphone itself unless you use a Wi-Fi connection.
The duration of the block will depend on your smartphone so you should keep that in mind.
Your device isn't recommended or certified
There are devices that Monster Strike will run smoothly on, and there are devices on which it won't.
This is called recommended device or performance guarantee, but you may encounter download and play experience related issues on devices that don't fit this bill.
Issues on Apple or Google's side
Apple and Google are where you download the apps, and so no app can be downloaded when either one of them is having trouble.
The problem they face may be severe and can take some time for it to be resolved.
What you should do when you are unable to download Monster Strike
Use your smartphone in an ideal communication environment
If you're using a Wi-Fi connection, repair your home Wi-Fi router.
If you have no signal due to your location, the best thing to do would be to move away from mountains and the underground.
Make sure to pay your user fees
If you have chosen automatic payments, make sure there are sufficient funds in your bank account.
If you pay through invoices, make sure to send payments by the due date.
Get a new device
If you really want to play Monster Strike, changing your device would be the best solution.
You can carry on playing on your current device by using unofficial methods but we don't really recommend that.
Wait for a solution
Problems on the app vendors' side can take some time to be resolved and all you can do is wait for a solution as there's nothing much you can do about it.
Summary
Reasons why you are unable to download Monster Strike
Poor communication environment
Your smartphone is blocked
Your device isn't recommended or certified
Problems on the app vendors' side
Solutions to not being able ot download Monster Strike
Manage your communication environment
Make sure to pay your fees
Switch devices
Wait for a solution
Not being able to download means ot being able to have fun on Monster Strike.
This could lead to you being left out and there's a high chance you may feel lonely.
In such circumstances, make sure to try the various solutions presented here.